The Crit Lab: the Alt MFA
The Crit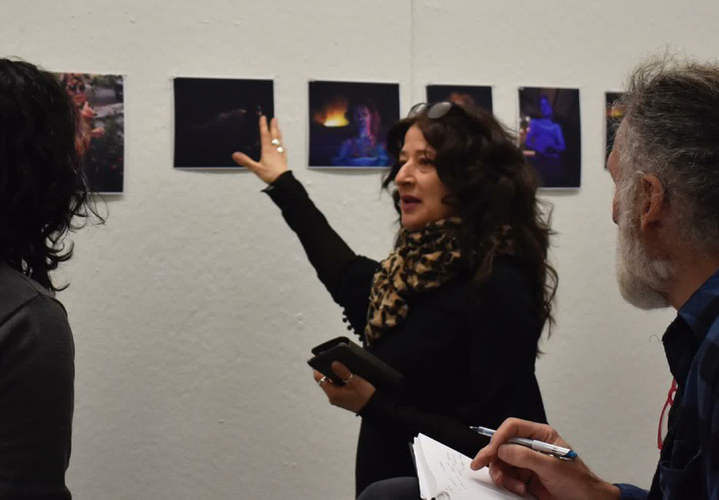 Lab offers rigorous, critical, supportive feedback akin to a graduate-level seminar in small ongoing artist groups. Asking ethical and aesthetic questions, we situate artworks in a social context, engage materials in their own language, and preserve the inchoate nature of the creative process.
The Crit Lab is a supportive forum for exploration and discussion of new, vulnerable, in progress, and experimental works and ideas. The connection and community transcend the Lab. The ongoing, intensive, inclusive, space of the meetings encourages work to flourish and grow in critical depth and perception.
The Crit Lab is inclusive. We cultivate safe brave spaces for all art and all artists.
The Lab intensifies focus, helps structure studio practice, and gives artists the language to speak about their work in their own voice. Through intensive, guided, engaged viewing and discussion, the artist is supported in pushing boundaries in the work.
Follow us on Instagram
@thecritlab
The Crit Lab Travels
The Crit Lab is a mobile Lab meeting in studios around the country, led by Patricia Miranda and organized with artists in their region. Labs currently meet in Port Chester, NY, Boston, MA (Somerville, Brookline), and Pawtucket RI. Labs meet in person and also via Zoom. Private sessions are available digitally or in person.
Founded by artist Patricia Miranda
Everywhere I go, I encounter a hunger for critical discourse and community among artists. I have been leading professional critiques outside of academia since 2013. My experience teaching in BFA and MFA programs since 2003 led me to design a strong pedagogical structure for critique - one that builds focused discussion that pushes the work, and realizes the potentiality inherent in the work and in the world.
I am committed to supporting artists in developing their artistic voice, situating that voice in a contemporary discourse, and in developing an ethical sustainable practice.
Read about the pedagogy of the Crit Lab.
Visit my website at
www.patriciamiranda.com
and MAPSpace at
www.mirandaartsprojectspace.com
Patricia Miranda
is an artist, curator, and educator, and founder of
MAPSpace
and
The Crit Lab
, project space and professional critique org. She creates objects and installations using found textile, books, and paper, altered with handmade natural dyes and pigments as form, process, and ecofeminist action.
Bio
Miranda has been Visiting Artist at Vermont Studio Center, the Heckscher Museum, and University of Utah; Visiting Lecturer at Purchase College SUNY, Kutztown University, WCC Peekskill Center for Digital Arts; and been awarded residencies at I-Park, Weir Farm, Julio Valdez Printmaking Studio, and Vermont Studio Center. She has received grants from ArtsWestchester/New York State Council on the Arts, and was part of a year-long NEA grant working with homeless youth. Miranda was the first Practitioner-in-Residence at Lyme Academy College of Fine Arts of the University of New Haven, where she led the first study abroad program at the university's campus in Prato, Italy, in spring 2017. She is core faculty at
New Hampshire Institute of Art'
s low-residency MFA program, and teaches curatorial studies in the grad program at Western Colorado State Univeristy. She served as director and curator of the Gallery at Concordia College-NY from 2008-12. Miranda develops education programs for K-12, museums, and institutions, including Franklin Furnace, the Solomon R. Guggenheim Museum, the American Museum of Natural History, and the Smithsonian Institution. She has exhibited at Wave Hill, Bronx, NY; the Cape Museum of Fine Art, Cape Cod MA; the Belvedere Museum, Vienna Austria; Metaphor Contemporary Art, Brooklyn, NY; and Kenise Barnes Fine Art, Larchmont, NY.
What do you get in a Crit Lab?
Structure:
Groups:
Max 7 participants;
Artists
: The same artists meet for all five meetings.
Sessions:
Once a month for five sessions.
Time:
10am until 4-4:30pm.
Individual Critique:
Each artist has a full 40-45-minutes focused solely on their work.
Akin to a graduate seminar, this is a tuition-based program in a committed, professional environment.
The
Crit Lab
plans regular
events
at galleries and studios, and offers a
Residency
in Northern Italy.
All Crit Lab
artists
get a free portlofio page; past participants remain connected on our past page. The
Crit Lab
website is a public space.
The
Crit Lab
maintains a private Facebook group for current and past participants; we share images from crits, articles, commentary, resources and more.
Artists from the
Lab
are invited to
curate
online exhibitions for our exhibition page.
The
Crit Lab
newsletter promotes a selection of artists from the groups on a semi-regular basis. Sign up for our mailing list
here
.
New Groups, Private Studio Visits and Critiques
If you are interested in organizing a group in your area,
contact
us! Sessions can be a single visit with one artist or booked as a concentrated group, in-person or digital. New groups can be formed around a local community of artists in any area.
Patricia Miranda offers individual consultations that align with your particular artistic ecosystem, including critique on your work, assistance with strategic planning, editing and writing for artist statements, grants and proposals.
The Crit Lab
virtual assistant
service, with artist Kimberly Lindner, offers technical digital help, organizing digital files, preparing portfolio images, research and more.
Email
Patricia for more info.
Read about Patricia Miranda at her websites and the link below.
www.patriciamiranda.com
www.mirandaartsprojectspace.com
---